Actions & Events
Actions are the pre-set activities that are performed on a certain component during the viewer's interaction with the ad or after a certain condition is met. Actions and events let you easily enhance functionalities of the components you are using. 
An action is defined by the following attributes:
The component on which the action is going to be performed (for example, a video, a button, a panel).
The user interaction/condition that will trigger the action (for example, a click, a release, carousel rotate start).
The action that is triggered by the user interaction/condition (for example, open a clickTag, call a number, show floating).
The element that the action is directed toward (for example, a clickTag, a phone number, a floating ad).
To add an action:
1. Click the component in the components list that you want to add an action to.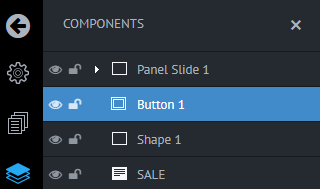 2. In the components setting panel, click Actions -> New Action and select an action trigger from the drop-down list.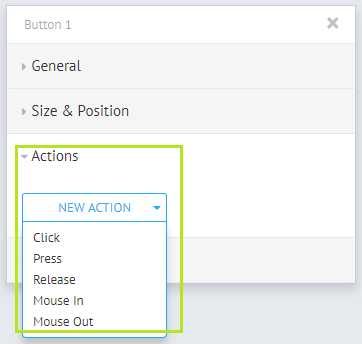 3. Select an action that follows the trigger.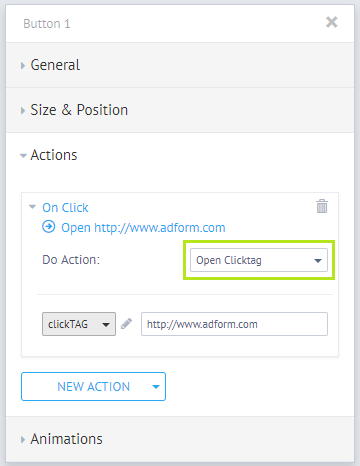 4. If needed, provide further information to complete the action, such as a clickTag, a phone number, a target, etc.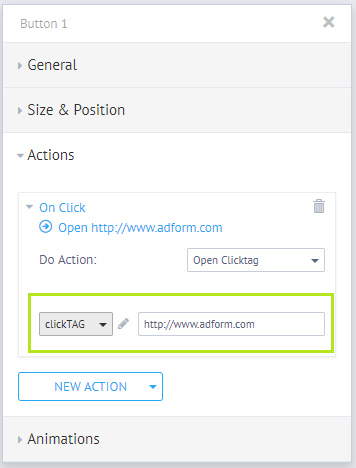 5. Click Save.
Actions & Events Examples
Open Clicktag
Adding a clickTag upon clicking a basic button: 
Triger Action On
Triggering video play upon clicking a basic button:  
Show Floating 
Triggering a floating type banner upon clicking a basic button of a caller banner:
Please note that Show Floating action is applicable to floating ads only. In order to perform the action, you will need to upload creatives to the platform and build a synchronized ad.