Updating User Account
User Account (master account) is the representation of the human user that uses different Adform applications. It has the authentication credentials (username, password, 2FA code) that are used to authenticate the user and log in to the system. User Account can be managed only by the user oneself. 
To update your User Account information, click on the profile icon in the top-right corner and select My Account.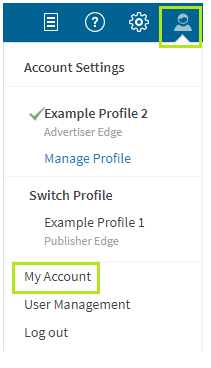 A new window will open: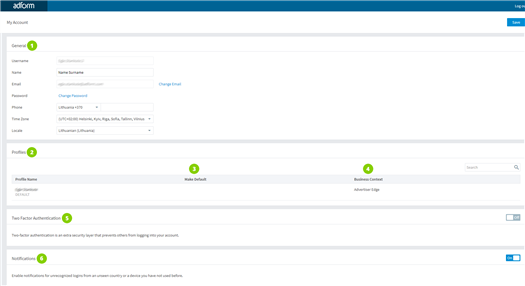 General information about the user (username, name, email, password, phone number, time zone, locale). Note that user name cannot be changed. (1)
A list of profiles that are linked to your user account. (2)
Making profile default. Default profile will be used as a main profile after the successful login to the system. (3) 
Business application name that the profile represents (4)
Notifications functionality allowing you to enable or disable notifications for unrecognized logins from an unseen country or a device you have not used before. (6)