Logging-In
Adform uses a centralized Single Sign-On (SSO) system id.adform.com for authenticating users and logging in to the platform.
To log in to Adform platform, follow these steps:
1. Go to the adform.com main page and click Login:

2. You will be redirected to the id.adform.com login page, where you will have to enter your username and password: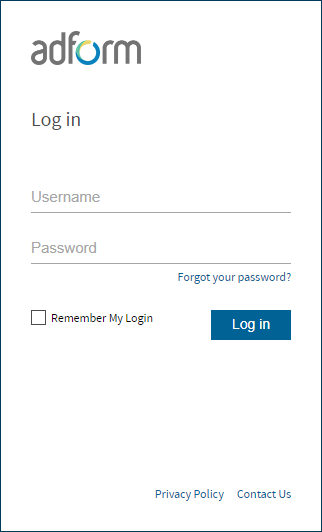 Always make sure that you provide your login credentials in the id.adform.com domain and verify that the secure encrypted network traffic (HTTPS) is used: 

3. Check the box next to Remember My Login if you do not want to provide your credentials upon next logins. This option should be used on private computers only.
4. Click Log in to get into the platform.
5. If you have the Two-Factor Authentication set up for the account, after a successful authentication using username and password, additional verification must be done. Please provide the code generated by the authenticator application: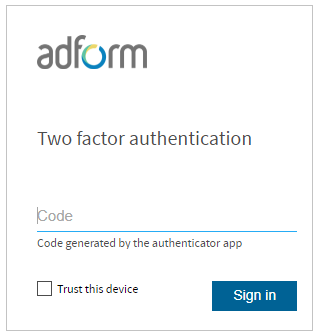 6. Check the box next to Trust this device if you do not want to be asked for 2FA codes for this user account for a limited time. This feature should be used on personal (trusted) devices only.
Change/Reset Password
If you forgot your password, go to id.adform.com page and follow the steps below:
Click on the link Forgot your password? 
Provide your username.
Follow the instructions on how to reset your password that are sent to the email address associated with the user account. Note that the link provided in the email message is valid for a limited amount of time.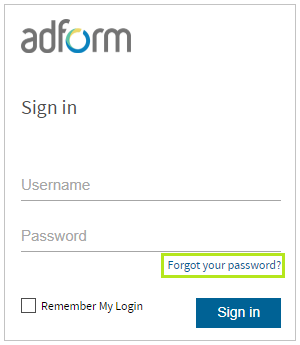 If you want to change the password for security reasons, see Updating User Account section.
Locked Account
User account may be locked for security reasons after a certain number of log-in attempts with incorrect credentials. Notification email with further instructions will be  sent to the email address associated with that account.