Two-Factor Authentication
Two-Factor Authentication (2FA) requires to prove the possession of the authentication device besides the authentication credentials (username, password) when logging-in. Adform uses industry-standard TOTP which uses smartphone as the possession factor. You need to have a smartphone with TOTP standard-based authenticator application installed. Adform suggests to use Authy application for iOS or Android.
There are two ways to utilize 2FA security feature:
2FA can be set up on a user account level.
2FA can be set up on a business account so that all user profiles would require 2FA. To do that, please contact Client Support. All users will need to have smartphone devices (iOS, Android) and TOTP application installed.
2FA restriction cannot be applied to Direct Logins. They need to be converted to User Profiles to benefit from 2FA security measure.
2FA Setup 
1. Go to Account Settings -> My Account, and then turn the 2FA toggle On:

2. Scan the QR code with the downloaded application or enter the code manually. 
3. Provide a 6-digit authentication code that was generated by the application and click OK.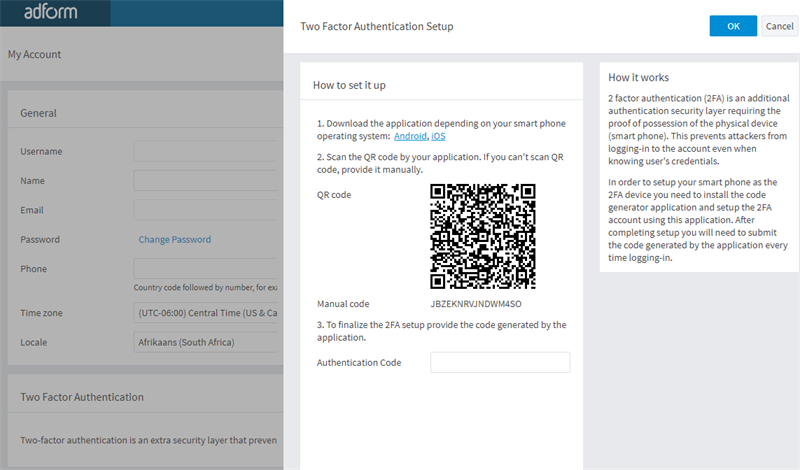 You need to re-login for 2FA to make effect. If a business account requires 2FA for the User Profiles, they are accessed only after re-logging with 2FA.
Canceling 2FA setup
1. Go to Account Settings -> My Account, and then turn the 2FA toggle Off:

2. Enter the password for the user's account and click Save:

From now on, you will no longer be asked for authentication codes when logging in.