Video Extender
It is highly recommended to use Adform Creative Toolkit extension for Flash to deliver video extender banners fully compliant with the specs.  The Creative Toolkit auto-implements the required ActionScript commands on the flash files. Once exported, the assets are ready to be uploaded to the Adform system. You may download the latest version of Adform Creative Toolkit here.
Also, it is recommended to use already existing Adform banner project template as a starting point. You may find various banner formats in  Adform Production Guides page.  For creating Video Extender banner please start with creating Single File Expanding banner also follow instructions below.
Workflow Steps in Adform Creative Toolkit
Video Extender is a Single File Expanding banner format with a dragging possibilty (officially supported by MSN). It is possible to expand/extend a banner by simply dragging the button placed on a banner's corner.
Note: Currently video extender feature is available only for Single Expanding banners made with ActionScript 2.

1. Create AS2 Single Expanding project (more info about creating Single Expanding banner can be found here).
2. Set the SingleExpanding settings:
Expand - custom
Collapse - custom
Auto show after - 0
Auto hide after - 0
Expanding delay - 0
Expand animation - Any except "None"
Collapse animation - Any except "None"
wmode - transparent
With the Landing page target, a landing page can be opened in a new or the same window, or in a frame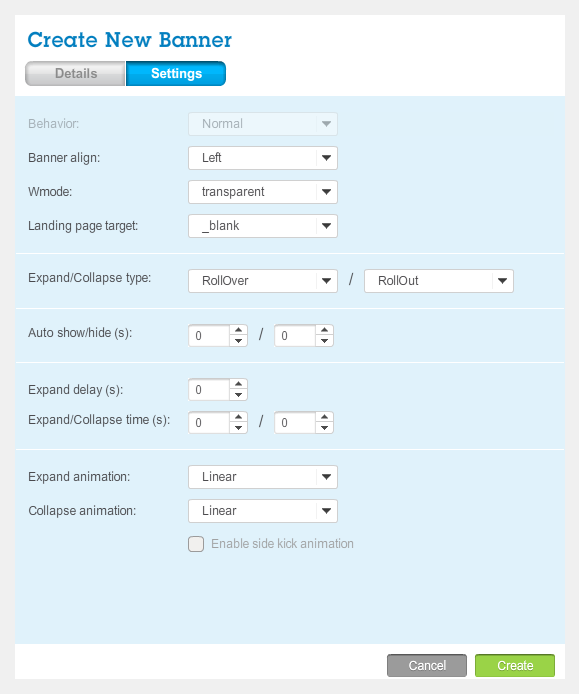 3. Add any content to the banner: graphics, Adform Video Player and etc.
4. Drag ExtenderButton component to the stage.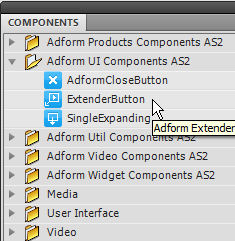 5. Setup properties of the Extender in the Component Parameters panel:

Button Align - select position of the Extend Button
Video Containers - enter an instance name of a Video container which must be extended
6. Add custom code or events if needed (see ExtendButton component page).
7. The methods of creating and assigning actions are the same as for Standard banners.
8. When a banner is finished, it can be tested by clicking the Preview button; or a ZIP file can be created by clicking the Export button so that it can be uploaded to the Adforom system.