Local Connection Banners
It is highly recommended to use Adform Creative Toolkit extension for Flash to deliver banners with local connection fully compliant with the specs.  The Creative Toolkit auto-implements the required ActionScript commands on the flash files. Once exported, the assets are ready to be uploaded to the Adform system. You may download the latest version of Adform Creative Toolkit here.
 Note: In order to build banners with local conection start with Creating Synchronized Ad.
 Important: Banner synchronization will not work correctly when banners are hosted in non-friendly iframes
Flash Banners with local connection are often desired when the advertising campaign needs several Flash banners to cooperate on one Media. For example, the ending of a streaming video in one banner starts another streaming video in another banner, or answering to a quiz questions in one banner invokes congratulatory animations in all banners, etc. Instructions for creating Flash Banners with local connection via Adform Creative Toolkit are presented in the text below.
Workflow Steps in Adform Creative Toolkit
1. Find the Adform Local Connection component in the Library: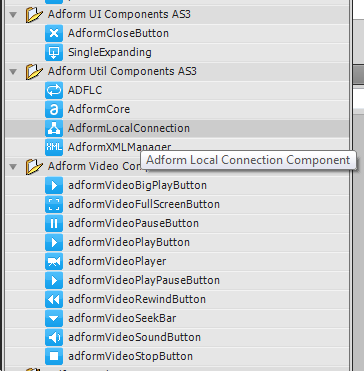 2. Drag it on the stage and open the Component Parameters window: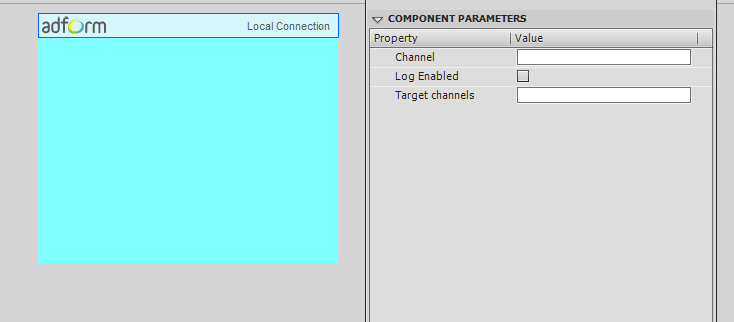 3. Fill in the channel and targetChannels fields:
channel - channel name on which this asset will be listening for messages. E.g: myChannel
targetChannels - target channels separated by , to which this component will be sending messages. E.g: a_channel,b_channel,c_channel
logEnabled - Enables/disables debug log messages. Default value false.
4. Setup other local connection banners in the same way.
5. Proceed to the Local connection component specs page for more info.