Managing and Assigning Actions
In order for ad-serving systems to track clicks while displaying Flash banners, the Flash banners must be programmed to use clickTAG variables instead of the pre-defined URLs. Using Adform Creative Toolkit makes it easier to manage banner's clickTAGs. All you need is to define clickTAGs you are going to use and assign them to specific objects.

When creating a banner, the first dialog allows you selecting a Default clicktag option and setting a landing page. If the default clicktag is selected, Adform Creative Toolkit inserts a button with the instance name "defaultClicktagBtn" and assigns a clickTAG action to it. It is possible to edit the landing page in the Details section.

Click is the only type of an interaction with a banner, but there are also various mouse gestures that, in a specific context, are meaningful and important to track. In order to track other than the clickthrough actions, banner events should be implemented (see the example below).

Let's say, you are going to create a banner with a clickable button and it will have a clickTAG and a Mouse Over Banner event:

1. Create a button symbol on the Flash API stage, and give it an instance name (e.g. defaultClickTagBtn);

2. In the Top Menu of  the Adform Creative Toolkit's panel select Content → Manage Actions;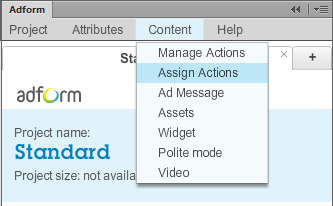 3. In a new window press the Create New ClickTAG button;

4. Fill up all the required information about the clickTAG and press the Submit button;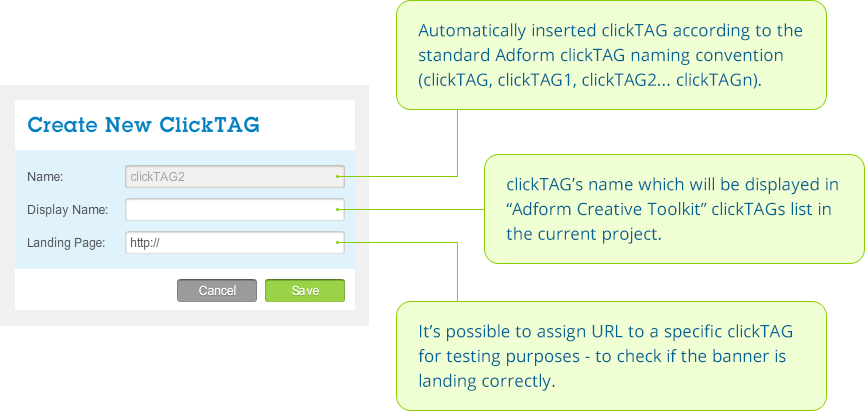 5. Now you can see the clickTAG in the ClickTAGs' list. Using the Actions window you are also able to edit, remove or create new clickTAGs;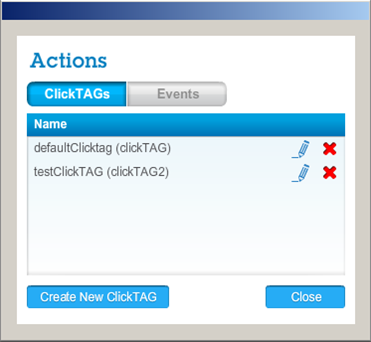 6. In order to create a banner event, execute the following steps to clickTAG creation:
Go to the Events tab and click the Create New Event button;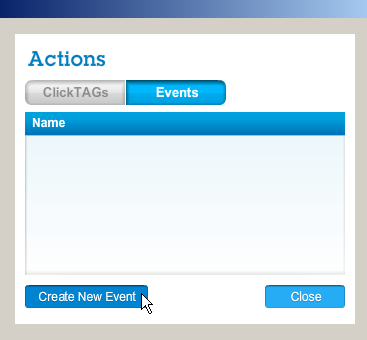 Fill in the event name;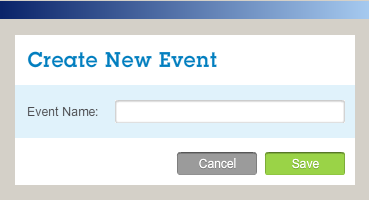 Go to the Events tab in order to see the created events and be able to edit or remove them;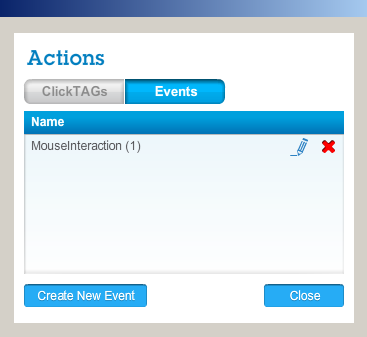 7. After a clickTAG or an event is created you have to assign them the button with an instance name: in Top Menu of Adform Creative Toolkit's panel select Content → Assign Actions.
8. In the Assign Actions window choose the action type "clickTAG" and assign "Test clickTAG" to the object with the instance name "TestButton"; for events – choose the action type Event and assign an event;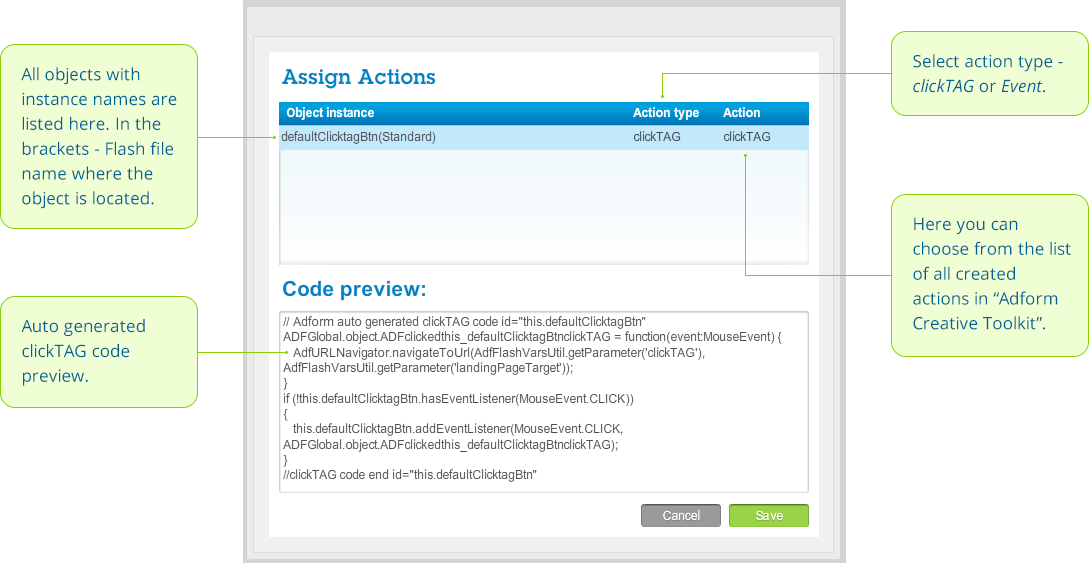 Note: It is not allowed to assign both clickTAG and event to the same button.
9. After clicking the Save button, the main window of the Adform Creative Toolkit shows a list of the assigned actions;


10. By clicking the Preview button it's possible to preview the banner in a browser. You are also able to create a ZIP file, which would be ready to upload to the Adform system, by clicking the Export button. When exporting the project, you can choose to use the zipped archive or separate individual files (swf, html).
Note: In order to have Export button active at least one clickTAG instance must be defined on banner stage. Otherwise you won't be able to make project export.